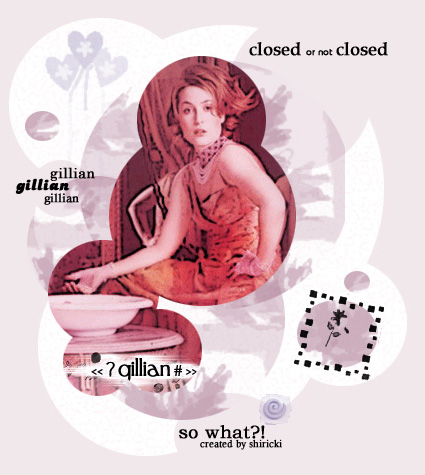 So what?!
This site is non-existent and is not. Fact is the webring is closed to new & old members.
If you still want to link to this site, feel free to do so. Please remove the code and exchange it simply with:
<< ? gillian # >>
(http://gillian.angelic-trust.net)
This is because too many stupid people joined this site thinking it was a fan clique or whatever. They neither read my description nor cared about it.
It was more than I could take over the years and after the last idiot tried to join, I decided to close this down and just let the site exist somehow. So it's closed and not.
Take it as you like.
What was << ? gillian # >> ?
This site was open for all personal sites, site collectives or online journals. It was for people who adore Gillian for just everything she is. For people who want to proclaim they are Gillian fans owning a extraordinary personal site.
Copyright: shiricki
Online since: April 4th, 2002
Closed since: April 4th, 2005
<< ? gillian # >>
is still copyrighted
This site, the idea, the contents (all of them) and especially the label and name << ? gillian # >> belongs to me (shiricki) and is copyrighted by me and only me and my site angelic-trust.net.